Taktikon Webinar: Total Profit Revenue Management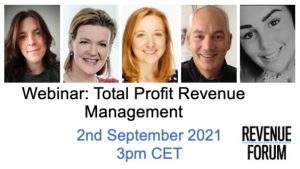 TOTAL Profit Revenue Management
On September 2nd 2021 Taktikon held yet another event in their successful series of Revenue webinars. The topic of this event was Total Profit Management and what aspects need to be considered when looking at technologies and applications of a Total Profit Culture.
In her opening comments, Annemarie Gubanski from Taktikon Consultancy highlighted the crucial relevance of breaking down data silos. One of the key challenges in creating a common ground for measuring economic success is the ability to trace all single transactions (room reservations, table orders, ancillary sales) to every customer. In a business reality where different systems tally incomes and sales in relation to the product units (at the POS or PMS-level), some kind of correlation to customer behaviour, types and segments needs to be established. One could say that this is not rocket science, however access to the right type of data and reports still appears to be a challenge. Whether this is based on the setup of our technologies, the access to the the right type of data or the fact that our data silos do not communicate in the proper manner.
This "system challenge" appears to be inherent to the hospitality industry. Part of the problem could be that the demands from the industry towards technology providers are unfiltered, highly individual to every hotel business and, occasionally, poorly defined. But instead of pointing at the technology challenges, Annemarie suggested to use a more non-scientific approach, and use sheer will power to start applying Total Profit strategies. Sometimes it it enough to decide to get started, find a technology resource and prod at it, even allowing mistakes.
Maria Macree from Ivvy introduced the perspective of meetings & event organisations (at a hotel or standalone venues). One of the key aspects of implementing Total Profit Management is of course the access to relevant data in order to define a strategy. Many organisations struggle with heavy administration, disparate technology systems and, especially during and after the pandemic: an increased demand for more digital touchpoints. This warrants the need to have more of your operations components to reside in one place in order to increase efficiency and reduce the cost of sale. These days "operators are required to "do more" with fewer resources so both seamless administration and reasonable cost for any tool or service are of essence.
Maria also shared some very interesting data points regarding how buyer behaviour has changed and expectations have risen when looking at Meeting & Event reservation processes. The expected response time to a booking inquiry is less than a day, even closer to 5-10 minutes and fast responses can secure a 70% higher conversion rate than "late" replies. This manifests the need to look at technologies enabling quick turnarounds to all inquiries.
Niki van den Broeck, Head of Business Development at "Get Into MoRe" introduced the concept of "Revenue is Revenue", regardless of the product segment (lodging, meeting or F&B). This approach is especially important in a scenario were a wall of upended demand is expected to "pour in" as restrictions are eased as in Sweden this week. In the high-stakes game of Meeting & Event business it is therefore crucial to look at total business value. Typically larger revenue streams are connected to single inquiries, and the chances to have the quote match the customers wallet size and demands are lower. Clever planning regarding total business value and length of stay is required to secure maximum profitability. Stacking of inventory, performance forecasting (chasing the gap between secured and required revenue), balancing meeting occupancy and room inventory,  and analysis of revenue per sqm in addition to RevPar can give the answers to whether or not accept a piece of business.
Rachel Stanley from IDeaS highlighted the important cornerstones of any Total Profit Strategy. A high level of expertise in revenue is a basic requirement, as well as solid understanding of guest value. All cross-functional teams within the operation should be educated in the cost of sale for their respective revenue streams. And lastly, a deep understanding of the different guest segments income contribution should enable supporting your marketing and sales directed at your target groups.All these components typically form a circular process from forecasting, optimising, control & steering tool and monitoring of results. IDEAS has long since spearheaded both technologies and services supporting this work process, which is completely integrated in their new G3 Revenue Management Solution. In keeping with the spirit of experimenting and getting started, users of the solution can build from the blocks provided in order to focus on the attainable targets to secure profit growth of a longer period of time. Not all has to be place at once, and it wiser to start somewhere instead of feeling overwhelmed by the complexities. Automated cost optimisation, targeting the most valuable clients and focusing on repeat business are the main areas to begin with.
Kees Lek of StayNTouch shared his insights on how PMS-automation contributes to Total Profit Management. The relevance of software in handling transactional up-sales at the point of travel or check-in can not be understated. Every little bit of revenue being equally valuable, system automation enables hotels and venues to secure more revenue being generated from guest on site. Smart technology being able to read which products types are available at any given moment and offering these products at the digital touchpoints the client has with your organisation is vital in this context. Paired with the increasing demand for a seamless digital dialogue, hotels can profit from selling more of what's available to the guest that's already there. Every time a guest pays 10 EUR more for an upgrade, a stay extension, a late checkout, you are generating small and steady income streams. This can push your ROI up towards 240% when applied throughout the operation.
Monetising all the assets of the hotel at reasonable price, made easy to buy through an automated process is key.
In the following panel discussions, all speakers shared their view on the expected recovery after the pandemic. A common view was that revenue science is a key factor in quickly turning profits even when demand is likely to be unsteady. The impending wave of demand once restrictions are lifted warrants another aspect, namely how to maintain control of your profits once demand exceed capacity. In the interest of not selling out to early at the wrong price point, organisations should adopt any element profit management to get started. This will create a strong Revenue Management culture, opening the door for both immediate and long-term profitability. There is technology out there to assist with this endeavour, and it all about getting started in order to capture more revenue.
Should you be interested in watching the entire webinar (ca 1 hour), please follow the youtube link here.
Taktikon will be hosting the next webinar around The Power Mobile Booking on October 7th. Click here to register, participation is free of charge. We look forward you seeing us there!